INTERNATIONAL PHOTOGRAPHY CONFERENCE & AWARDS
The maiden edition of West Africa Photography Awards (WAPHA AWARDS 2020)
About this Event
ABOUT WAPHA EVEN
The WAPHA Team is excited to announce the maiden edition of the West Africa Photography Awards. The award ceremony will take place on Tuesday, August 18, 2020 at the Landmark Events Center, V/Island Lagos. The West Africa Photography Awards (WAPHA) is designed to celebrate photographers across the West Africa Sub-Region, including veteran photographers who have contributed to the growth and development of the photography Industry
West Africa Photography Awards is initiated by Orelaja Akeem, CEO of FullHouse Entertainment; Orelaja Akeem is a professional photographer, who was trained by the award winning photographer Kelechi Amadi-Obi.
This maiden edition of WAPHA AWARDS is themed "Lens Across Borders", while the INTERNATIONAL PHOTOGRAPHY CONFERENCE (BOP) is themed "Photography and Tech Evolution"
Stakeholders, investors, camera equipment manufacturers, photographers, retailers and all creative minds involved are expected to utilize this great opportunity to network and share their challenges and journey with one another as well as proffer solutions that will be helpful to the creative industry as a whole.
There will be panel sessions, master classes, exhibitions and interactive sessions.
The Business of Photography Conference in collaboration with West Africa Photography Awards team to hold an international Photography Conference, which will draw attendees from Nigeria and other West Africa Countries.
Benin, Burkina Faso, Cape Verde, The Gambia, Ghana, Guinea, Guinea-Bissau, Ivory Coast, Liberia, Mali, The Niger, Nigeria, Senegal, Sierra Leone and Togo.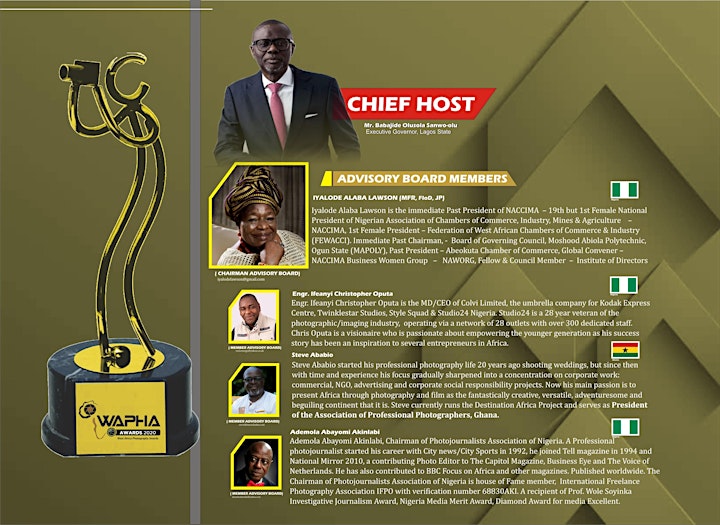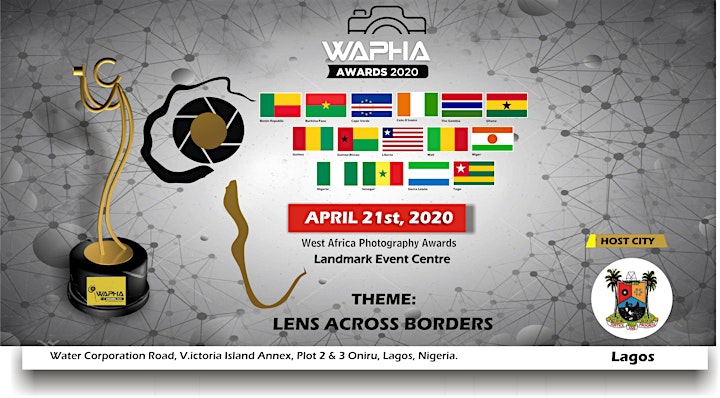 The photography awards will take place shortly after the conference, starting with red carpet and cocktail session.
There will be vendors exhibiting their products at the venue.The maiden edition of the award promises to be very interesting, motivating and memorable.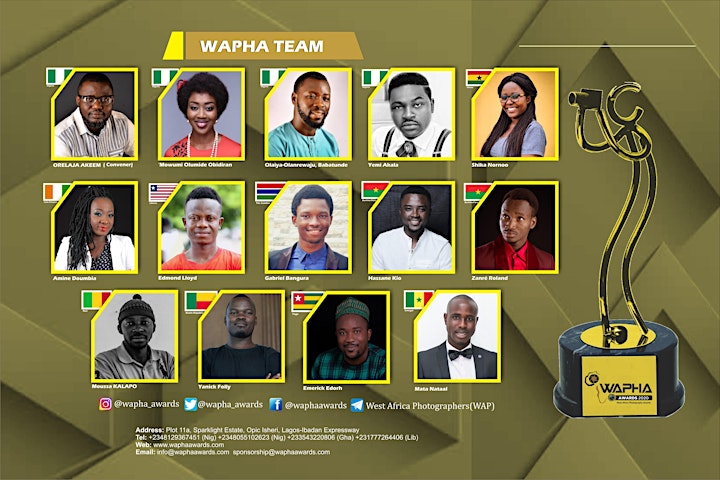 Hurry up & Register for the Conference and stand a chance of getting an invite for the awards night. Mark the date on your calendar and be there.
For sponsorship, partnership, product display and inquiries, email us –
info@waphaawards.com or westafricaphotographyawards@gmail.com
You can also reach us at @wapha_awards on Instagram and waphaawards on
facebook. Website – http://waphaawards.com
Tel: +2348129367451 (Whatsapp) , +2348056200361, +233543220806